Discount Snow Stakes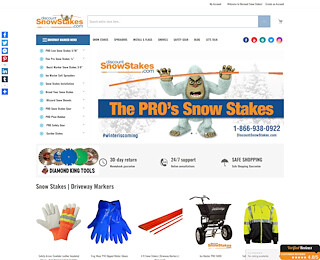 Install a series of
driveway reflectors
, and it will be ever so much easier to find your driveway after dark and during snowy weather. At Discount SnowStakes we stock and sell a fine variety of reflective stakes and markers which will guide your car into your driveway and keep snowplows out of it.
Investing in cheaply made wooden staked driveway reflectors is not the most efficient use of your money. Yes, it's important to indicate the location of your driveway during or after a snow storm, but do so with driveway reflectors that are built to last. here at Discount SnowStakes you will find a nice selection of reflectors, stakes and markers with which to effectively point out the location of your driveway. This will make it easier to find your own driveway and it will also make your driveway visible to snow plow operators. Without such indicators, a snow plow driver is apt to bury the entrance to your driveway with a pile of freshly plowed winter white.
Fiberglass stakes are virtually impossible to break. Reflective fiberglass never needs to be repainted. Fiberglass reflectors do not splinter when hammered. Fiberglass driveway reflectors are cheaper to replace than wood. Fiberglass stakes never warp or crack. Here at Discount SnowStakes we stock and sell superior driveway reflectors that are built to serve their intended purpose throughout several snowy seasons. While you are here browsing our website, please review our splendid selection of lightweight snow stakes, easy-to-move driveway reflector markers and user-friendly salt spreaders. It's never too early to start getting ready for winter storms. Here at Discount SnowStakes we offer a nice assortment of driveway markers that will keep those plows from tearing up your property. When you're ready to place your secure and encrypted online order, do so right here or give us a call at 866.938.0922.
We Specialize In:
driveway,reflectors,pavement,reflective,reflector,marker
We welcome your comments!