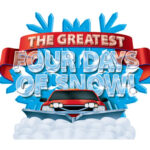 We attended our third straight SIMA show in Buffalo New York a couple weeks back. We brought our reflective snow markers and walk behind salt spreaders with us. The reason Discount Snow Stakes loves this show so much is the quality of exhibitors and attendees. Literally every snow removal contractor, both big and small, are very serious about their business. This is why we take the feedback we receive at the SIMA show so seriously. These are the top 3 things I learned regarding snow markers.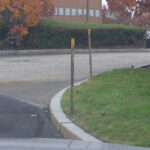 1. Some HUGE companies are still using wood stakes – Listen, I get it, wood stakes are cheaper. Honestly though, they are about half the price of fiberglass reflective markers and they don't last half as long. Without listing out a huge cost analysis, our studies show fiberglass snow poles pay for themselves in 2 seasons. On top of that, all the huge benefits that come with fiberglass markers, in particular the reflective qualities. You can paint that wood stake any color you want, when headlights hit it at night, it is not reflecting.
2. The theft of reflective fiberglass stakes are high – This is concerning and unfortunately there is not one solution to this problem. However, wood stakes also get stolen. I look at it this way, because the cost is a little higher for reflective fiberglass markers, it stings a little more when they get taken, but staking properties is an absolute must. The investment is well worth it because of the amount of property damage it prevents. 
3. Customers want their snow stakes branded – When you are marking residential accounts, this can be cost effective. You can basically put one or two snow markers at the end of a driveway and it cost little to have a flag with your logo on the stake, but when staking huge commercial accounts, how many flags do you put on the snow stake? How much advertising value does this have? How much theft does this prevent? These are questions that we are currently trying to answer to provide our customers with the necessary feedback. We are working on 2 options, a flag for the stake and a clear sticker with company name to go over the reflective tape on the stake