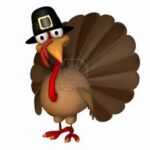 Thanksgiving is coming and it's almost turkey time. Discount Snow Stakes will be closed on Thursday for the holiday but open on Black Friday. UPS however will not be conducting ground or 3 day select service during this span. They also will not be doing daily pick ups on either day.
Please keep this in mind while ordering your driveway markers. If for instance you ordered today and it is a 3 business day delivery time to you, you would not receive your snow stakes until Tuesday December 2nd.
Very sorry for the inconvenience and please email or call us with any questions.